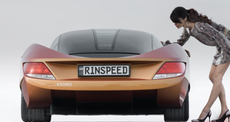 Rinspeed iChange EV has no doors, entrance is via open canopy. Quite an electric car, top speed 220km/hr. Not commercially available yet... time to handmake your own! 
Ive been busy, admittedly on other things including helping on a student project (link now removed); but also waiting for the Oz dollar to improve against the US dollar. Attended the Solar Fair last week, just before we head off to South America for a month or two - mainly to work in an orphanage in Bolivia. Anyway, the dollar is slowly rising, AC motors havent magically dropped in price and no AC controllers have appeared that weigh less that 22kg and will fit under a bonnet neatly. Well, thats my story...
My thinking is moving from a big AC motor and no gearbox to a small AC motor and keep the gearbox, to two DC motors and no gearbox or even a DC motor and keep the gearbox. Keep it simple. Its been a mental roller-coaster ride, but my main objective is to follow some proven models of construction, and Matt (find link) who is working on an MR2 as well, is leaning this way. In fairness to Matt he has never varied from wanting a big DC motor, but now he has decided 2 smaller ones will do better. And it looks like I can get a Zilla  controller, 2 x DC motors and enough batteries to get around (but perhaps not 200km at this stage!) and fit it in before the 12th of Never.... 
Ill try and place an order before I go and it may be that parts start arriving by the time I get back... now THAT would be good, don't you think?