EVs AT GLYDE-IN COMMUNITY CENTRE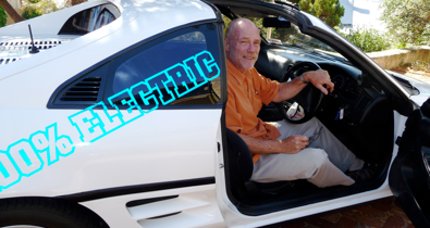 Had a great buzz recently talking with a group (see side pic) at our wonderful community centre called Glyde-In. Terry Mercer and I talked about our EVs... Terry has recently converted his bike to electric, and of course you can guess what I rattled on about. :-) . The slides from our talk are up here if you are really keen… 
Afterwards we showed off our EVs, and Im very proud of a dusty old bit of A3 paper which I stuck onto the inside motor bay lid months ago now. It talks about how clean the motor bay is in an electric vehicle.  This sign is STILL there, AND its getting dusty and water stained, but it is NOT oily, it is NOT GREASY, and it is NOT covered in EXHAUST DUST!
I'm referring to the 'Pretty Clean, Huh?' sign which was new at the ECU Open Day where Mark and kids posed for photos next to the MR240, and it is still there. 
It says:
Thousands of kilometres and still shiny. Imagine if driving EVERY car made so little mess...
Don't stop at Carbon Neutral, be Carbon-free*
*and has an explanation in small print about Carbon neutral, its meanings  and its limitations.